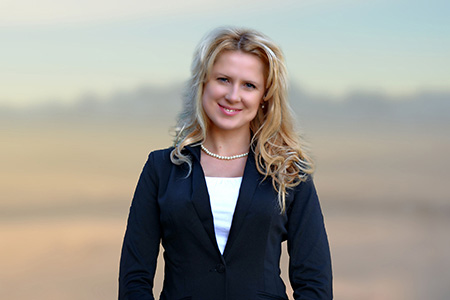 I have always dreamed of being an attorney. For that reason, I attended and graduated from the Faculty of Law and Administration at Jagiellonian University in Krakow. After completing my legal training at the Court of Appeals in Krakow, I was registered by the Regional Bar Association in Krakow.
I gained experience working as an attorney in leading law offices in Krakow and also as an in-house lawyer dealing with transport and building law, as well as by working with developer's consortiums.
I have broad knowledge of civil, business, international trade, transport, and tax law, while also having considerable expertise in family and criminal law.
For years, I have been an authorised Mediator at the Economic Mediation Centre in Warsaw, and conduct mediation between businesses.
I understand that many of my clients come to me as a result of highly stressful life situations, that's why first and foremost I strive for an amicable solution to each case, based on the belief that emotions give poor counsel when making important, life-changing decisions.
My first priority is always the trust of my client, which is why I take an individual approach to every case, to gain a thorough understanding of the client's position and the circumstances of the case.
In my free time, I am a member of the Tatra Mountaineering Club Vertical in Zakopane, and am as passionate about mountains as I am about the legal profession. I make winter and summer ascents of Alpine and Tatran summits, and also engage in speleology, enjoying the beauty of the Tatran caves.